Hi! My name is Karen and I'm 56 years old. I injured my foot going up the stairs in my home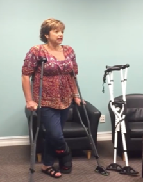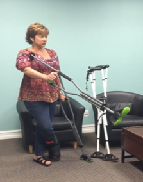 Hi! My name is Karen and I'm 56 years old. I injured my foot going up the stairs in my home, I had surgery on Valentine's day 2018. And originally was given a set of basic aluminum crutches and I couldn't wait for my Dynamo Sport Swings to arrive because I felt so insecure on the traditional crutches because I thought I was going to fall. I was terrified of falling again and could not wait for my Dynamos to arrive. When I received my Sport Swings. I finally felt I had some stability and mobility to get around on my everyday tasks and being a Nurse, I'm used to walking around very quickly and my Dynamos allow me to do that.
The first thing I love about the Dynamo Sport Swing, is the foot, it is shaped a lot like a person's actual foot. And it actually walks with you as you propel forward, such like a regular leg would from the ankle, which gives me a lot more surface area and a lot more stability on the ground.
The second thing is the grip, the grip form-fits to the palm of your hand where is on traditional crutches your hand forms a round grip. And from my experience in the healthcare field what patients tend to do using the round grip is people tend to hang on their underarms and tend to be sore underneath. But with the Dynamo grip is that I have never have pressure or discomfort in my underarms all the weight is being dispersed through my hands.
Thirdly, the Swing-Link adjusts my gait. Which helps me adjust the crutches from going to forward, I like this because I adjust my range of motion.
And lastly the fitment of the Swings, I love you can double adjust them, they adjust at the top to help bend your arm in a 15 degree which helps put the weight on your hand. And then it also adjusts in the bottom for the height which all contributes to comfort and stability of the Dynamo. They're not at all like a traditional it would be fallacy to call them a crutch, I can't wait to get back on my feet but on the mean time I'm extremely happy with my Dynamos!